The start of a new year can be the perfect time to re-evaluate your approach to caregiving.  What's working.  What's not.  Maybe you're burning the candle at both ends, managing your own children and the care of your aging parent.  Maybe your elderly parent's challenging behavior is becoming a source of increasing stress for you.  Maybe the resentment cloud is rearing its ugly head and you're ready to make a new start, use new strategies, take a different approach.
Caring for a dysfunctional parent with increasingly difficult, toxic, even abusive behavior is a challenging situation for any family caregiver.   It can breed resentment, stress, withdrawal.  And, at the same time, make you feel helpless, frustrated and ultimately, conflicted. In the new year, resolve to take a healthier approach to caregiving.
5 Caregiving Resolutions to Make and Keep
Empowered Caregiving: Caring for Difficult, Toxic Parents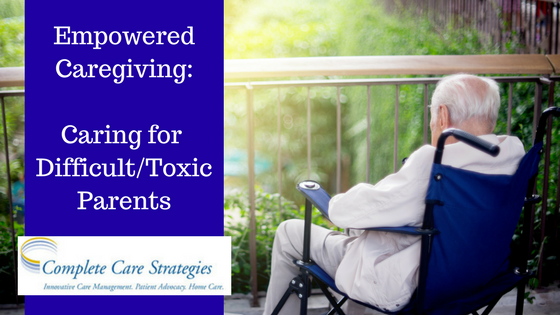 Don't Sweat The Small Stuff
Over time, every little thing that a difficult parent does can drive you up a wall.  Recognize that there are situations, behaviors that can be tolerated and are less urgent than others.  Reserve your energy for the truly important needs of your parent.  Don't nitpick.  Let some of the small stuff slide.
Ask For Help
Stubborn parents can fight you at every turn.  Many times, it is easier for strangers to get parents to comply with requests that they typically reject from loved ones. Senior care professionals, whether in-home caregivers or geriatric care managers, are just that, professionals! Their job is to fulfill a need for your parent and take the pressure off of you.  The home care assistance offered at Complete Care Strategies is here to help in the Philadelphia area and surrounding suburbs. So, give yourself a break, give us a call and let us help you get your life back.
Embrace, Own and Process Your Own Feelings
It's not unusual to feel a range of conflicting emotions, including resentment, guilt, nostalgia, even anger, when caring for difficult parents.  Take time to recognize what you're feeling and how it relates to the present situation.  How can you process and deal your emotions in order to break harmful cycles?
Protect Yourself
Caregiving is emotionally taxing work.  Caregiving for a difficult, toxic or even abusive parent requires some pretty thick skin.  Your loved one's behavior could become more extreme due to advanced age, dementia or life-long of mental health issues.  It's important to brace yourself with the knowledge that your loved one is ill.  The illness is causing their behavior, at least to some extent.  It, likely, has very little to do with you but more to do with their current situation and their inability to control it, manage it themselves.  Stay calm, cool, consistent and resist the urge to take it personally.
Put Your Own Health First
Making self-care a priority is one of the first rules of caregiving.  Caring for a loved one can be both physically and emotionally exhausting on its own.  When a caregiver is trying to juggle the needs of their aging parent with the needs of their own children, husband, work…their own needs can often be overlooked.  Take time for yourself, meditate, exercise, read, take a walk, take time off, ask for help when you need it.  Your needs are a priority.  You can't care for anyone else if you are not caring for yourself.
At Complete Care Strategies, we know that each family has its own set of unique needs, resources and emotions.  As a neutral party, we can serve as an unbiased counselor and help resolve differing points of view.  Our clients tell us that they receive support, care, information and peace of mind from the very first call.  If you need help managing care for a loved one, we can help.  Call our aging life care managers toll-free at 1-888-433-0040.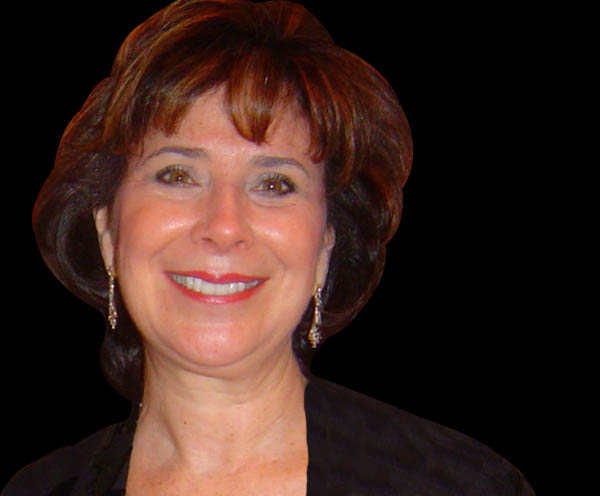 Beverly Bernstein Joie is the founder and president of Complete Care Strategies, a senior care management company serving Philadelphia and its surrounding communities. A Certified Aging Life Care Manager with more than 20 years of experience, Beverly has worked in senior care since 1994, both in assisted living communities and in private practice. She is a member of the Aging Life Care Association and was a former president of the Philadelphia Chapter.
Complete Care Strategies consists of care managers, specialized human service professionals, who advocate and direct the care of seniors and others facing ongoing health challenges. Working with families, its expertise provides the answers at a time of uncertainty. Along with its licensed home care division, it can help clients safely remain at home under the watchful eye of skilled professionals. Families are afforded an integrated model of care that, with guidance and advocacy, lead them to the actions and decisions that ensure quality care and an optimal life for those they love